Regular Price: $30.95
Program Price: $25.95*
The Mini-Blind Brush attachment is specially designed to clean six blinds at once. The brushes go in between each opening to break up the dust while the power of the Majestic sucks it away. A must have for keeping your blinds clean.
To order call (877) 746-6680.
Call to Order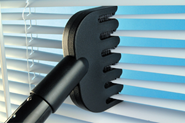 *Customers enrolled in the Discount Filter Program receive special Program Pricing on accessories.